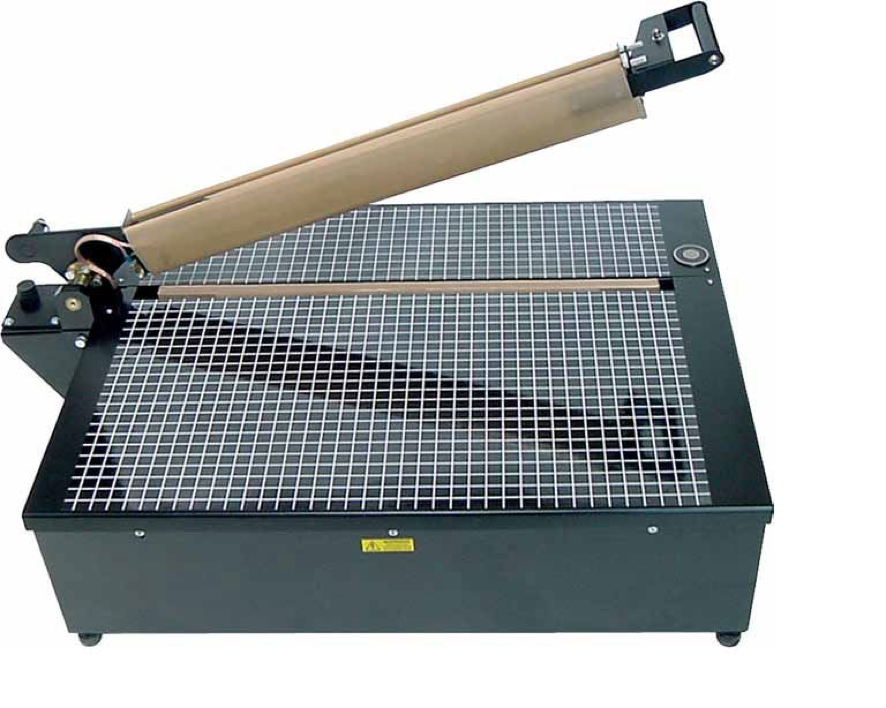 This new machine has been designed with health and safety approval, it no longer uses a foot switch, which could easily be activated by accidentally stepping on it (health and safety liked that). The jaws previously slammed down by touching the foot switch and could cause nipping of fingers, this cannot happen with this new machine. Not using jaws means you are not restricted by the jaw width and can continually weld very wide sheets, up to a maximum of 1400 mm.
The new style of operation allows much more room to work with the material you are sealing. The working alignment grid squares can now be replaced when worn. The PTFE cloth protecting the welding element is simply replaced by winding new material into place from the roll attached to the machine, a real advantage for quality welds. The weld length has been increased to 700 mm and you are no longer restricted to the width between the jaws as on the old machine. For wider material you can now continuously weld in any position from the edge to the centre, this is because the jaws are no longer used. The heat-compensating device uses the latest electronics to ensure constant welds every time.
The Crossweld can be used for sealing various thicknesses of polyester film, till 370 micron. It will weld polyester to paper and board also other materials such as Reemay, Hollytex, Tyvek and even bubble film can all be welded to make pockets and bags.
Replacing the heating element is easy, replacing the PTFE Cloth is even simpler.
A floor mounting stand is available complete with adjustable feet.
Comes complete with instructions, spare element and PTFE cloth. Each machine is shipped in a wooden crate arriving ready for use.
Weight: 58 kg
Dimensions: 870 W x 680 D x 240 H mm
| | |
| --- | --- |
| Code | Beschrijving |
| A806-7000 | Crossweld Polyester Film Sealing Machine |
| A806-7001 | Spare heating element |
| A806-7002 | Spare PTFE Cloth 700 x 600 mm |
| A806-7003 | Base protection PTFE tape 19 mm x 15 m |
| A806-7004 | Floor mounting stand |