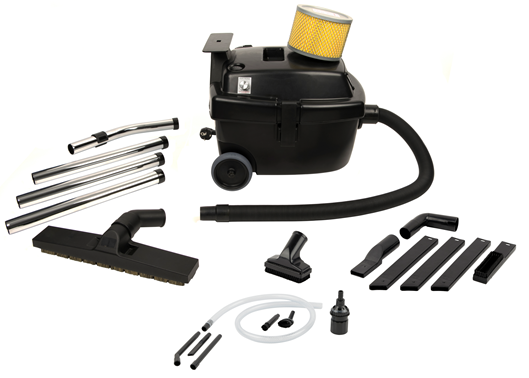 Full stepless electronic suction & blow power control from extreme low* to maximum setting (* precision
dust removal).
Full motor speed, electrical consumption and noise level control.
EEC made top quality electrical & electronical components for utmost reliability and global use.
Unit overheating protected & RFI/EMC filter equipped.
Easy to move around thanks to low motor mount, wheel well protected castor and robust rear wheels.
10 meters detachable schuko.
Lift off wing shaped quick storage cordset holder.
Metal bend handle with air regulator.
Oversized HEPA motorfilter (MT-853) for steady airflow extending both motor and filter life. Eliminates
premature clogging.
HEPA (high efficiency particulate air 99,990 % retention of 0,3 µ particles) or ULPA (high efficiency particulate air 99,997 % retention of 0,3 µ particles) exit filter / muffler after motor (MT-857 ESD).
Optional blow assemblies turn unit into a very powerful blower.
Included accessories:
Steel mini extension tube set (PHU-28)
Stretch hose assembly extending full 3 meters (MT-861)
Large wheeled brush tool for floors, walls and ceilings (pHU-29)
Mini attachment set with 7 pieces miniature crevice/brush nozzle set (PHU-10)
Nozzle set of 6 pieces crevice/brush, variable angle adaptor for "hard to reach" area's (PHU-21)
Slide on brush upholstery nozzle (PHU-22)
Max. motor power : 1100 W
Max. vacuum power : 210 mbar
Max. airflow : 45 L/sec.
Max noise level : 64 db
Measurements : 39 x 34 x 42,5 cm (L x W x H)
Weight : 6 kg (appliance)

| | |
| --- | --- |
| A888-MU-E-GS | Regelbare stofzuiger + PHU-10 + PHU-21 + PHU-22 + PHU-28 + PHU-29 |
| MT-850 | Disponible Meltblow filterbag set 5 stuks |
| MT-851 | Disponible Meltblow filterbag set 10 stuks |
| MT-852 | Activated carbon jacket (MT-853 use) |
| MT-853 | HEPA Motorfilter (placed before motor) |
| MT-857 ESD | HEPA Motorfilter (placed after motor) |
| MT-888 ISO 7 | Kit MT-851 + MT-853 + MT-858 |
| MT-861 | Original hose assy complete relaxed 0,90 m – extended 3 m |
| MT-862 | Super stretch hose assy complete relaxed 2,50 m – extended 8,50 m |
| MT-863 | Blow assembly + connector relaxed 1,20 m – extended 3 m |
| MT-864 | Blow assembly + connector long version relaxed 2,80 m – extended 9,10 m |
| PHU-04 | Set opzetstukken |
| PHU-05 | Lange rubberen opzetstuk |
| PHU-07 | Miniborstels (paar) geitenhaar – zeer |
| PHU-08 | Miniborstels (paar) paardenhaar – normaal |
| PHU-09 | Miniborstels (paar) varkenshaar– zeer hard |
| PHU-10 | Set mini opzetstukken |
| PHU-11 | D-vormige borstel varkenshaar |
| PHU-12 | D-vormige borstel paardenhaar |
| PHU-13 | D-vormige borstel geitenhaar |
| PHU-14 | Mondstuk |
| PHU-15 | Draaibaar borstelmondstuk nylon |
| PHU-17 | Verstelbare knikverbinding |
| PHU-18 | Verlengslang van 85 tot 350 cm |
| PHU-20 | Flexibel rubberen mondstuk |
| PHU-21 | Set in elkaar passende opzetstukken |
| PHU-22 | Vlak mondstuk met schuifbare borstel |
| PHU-28 | Set van drie roestvrij buizen |
| PHU-29 | Vloerzuigmond 30 cm breed |